Last summer I wrote here about WFM CEO John Mackey's quickly famous words "we sell a lot of junk." Since then, we have been waiting for the high-end natural foods store to clean up its act. We are still waiting. To this date, NOT GONE are the huge displays of candy when entering our local store (continues below…)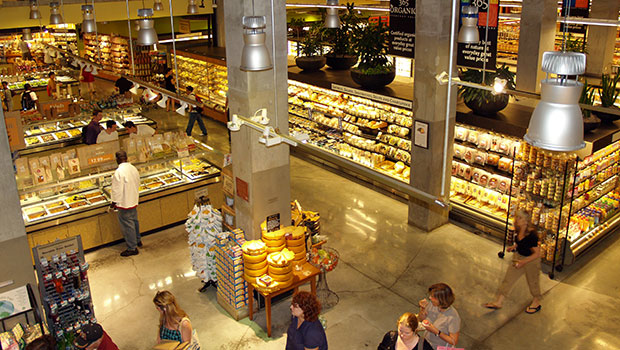 Also NOT GONE  is their sugar filled dessert bar, or the white flour pizza counter, or the prepared comfort foods many of which are made with canola oil (if YOU would like to know about the dangers of Canola oil, please read The Great Con-ola by Sally Fallon and Mary G. Enic, PhD).  And, very sadly, NOT GONE  is the enormous offering of alcoholic drinks. I could go on and on.
However, last week I noticed their display of organic grass fed sourced raw milk from the wonderful people at Organic Pastures was gone. This seemed strange. Then came this bit of news that WFM was pulling raw milk in four states. WFM talked of the need to develop raw milk "standards" with hints of bringing it back to the shelves in the near future..
All talk. It won't happen. I was distressed to watch this video update to from Organic Pastures owner Mark McAfee (this a facebook link; sign on to view the video) in which he announced that he has been told by WFM that as a matter of corporate policy WFM will no longer stock raw milk in any of its stores in the U.S.  David Gumpert has the story here from which I quote:
"Forget all that talk about Whole Foods developing raw milk standards and bringing unpasteurized milk back to its stores in California, Pennsylvania, Washington, and Connecticut. Dairies in California and Pennsylvania were told today that the ban is indefinite, likely long term. "Whole Foods never intended on bringing raw milk back to the shelves in California or anyplace in the U.S.," says Mark McAfee of Organic Pastures Dairy Co. "OPDC provided the $10 million in coverage requested and everything that anyone would want for food safety…Wholefoods is not putting raw milk back onto any shelves in the U.S. for the short term and foreseeable long term. No rational reason was given…We also were never given the Whole-Foods-team-developed enhanced national raw milk production safety standards that Whole Foods promised to us." Read the rest.  And in an article on the same topic a week earlier David wrote: And you gotta love this. John Mackey, Whole Foods' CEO, has a new article out on the "high trust organization." No mention of all the trust created by staying with raw milk."
Our family is fortunate to have a wonderful and rapidly growing natural foods store nearby named Mother's Market which stocks a wide variety of Organic Pastures products and at prices far below what WFM ever offered. Example: Half gallon of whole raw milk at WFM (was) $9.99; at Mother's Market (is) $6.99. And Mother's Market, by the way, does not "sell a lot of junk."
Arrivederci, Whole Foods. I will be sticking WITH raw milk and supporting ONLY the stores that offer it.
More information on raw milk:
My personal experience with the healing powers of raw milk is found here along with the work of a physician who used raw milk to HEAL disease.
ALSO see the following
Another person's testimony of raw milk's healing power.
Dr. Tom Cowan M.D. on raw milk's medical benefits.

Subscribe and never miss a post!
Subscribe in a reader …Email: Subscribe by Email Photo Credit